The most popular residential complexes in Dubai. Top 10 sought-after new buildings in the center of Dubai to buy and invest in real estate. Apartments in elite buildings in Dubai for investment.
Content:
Features of the area
Dubai is a young city. Its center, Downtown Dubai, is continuously developing, and many parts of it are still under construction.
The area is home to many attractions and world-famous buildings, including the Burj Khalifa, the world-famous Dubai Mall, and the Dancing Fountains. Several interesting projects deserve attention, including residential complexes. Luxury villas in Downtown Dubai are famous for high quality, exclusive interiors, and stunning views of the city.
Although Downtown Dubai is the smallest district in the city and covers an area of only 2.5 square kilometers, it is the largest construction project in the emirate. The project was implemented by Emaar Properties, to develop the city. This area is now a hub of ambitious projects that bring together talented minds, entrepreneurs, and investors, from around the world.
With regards to the real estate market, Downtown is a skyscraper area. Real estate in Downtown Dubai includes studios, apartments, and penthouses, offering a unique panoramic view of the city and its attractions. There is also a limited offer of villas and townhouses located on the top floors of high-rise buildings.
The main advantage of housing in Downtown Dubai is its exceptional location. No district of the emirate can boast of such a concentration of unique buildings, infrastructure, and amenities in one place. The central location of Downtown Dubai means that it is within walking distance of the city's infrastructure and entertainment, making it attractive to foreign investors.
Since the district is a freehold territory, it is possible to purchase full-ownership real estate here.
We invite you to get acquainted with the 10 most sought-after new buildings in Dubai where you can buy profitable real estate.
THE ADDRESS DOWNTOWN
The Address Downtown is a stunning 5–star hotel with 196 rooms and 626 serviced apartments. It is located next to the world's largest shopping mall, Dubai Mall, and opposite the world's tallest building, the Burj Khalifa. In January 2015, this 302-meter (991 ft) high skyscraper was ranked the 19th tallest in the city.
The building also has penthouses and sky collection apartments. The view from the sky collection penthouses and apartments is beyond exceptional. This building is also convenient for business purposes, not just for recreation or entertainment. The project also offers corporate housing and apartments for rent.
The building has many amenities to make the life of guests and residents easier and more interesting. These amenities include:
Impressive swimming pool
Relaxing spa
Business lounge
Well-equipped gym
Spacious banquet hall
Round-the-clock security
Entertainment area for children (Qix club), and much more.
The minimum cost of apartments in The Address Downtown is AED 1,300,000 ($353,934, ¥15,184,648).
The minimum rental price is AED 95,000 ($25,864, ¥169,411) per year.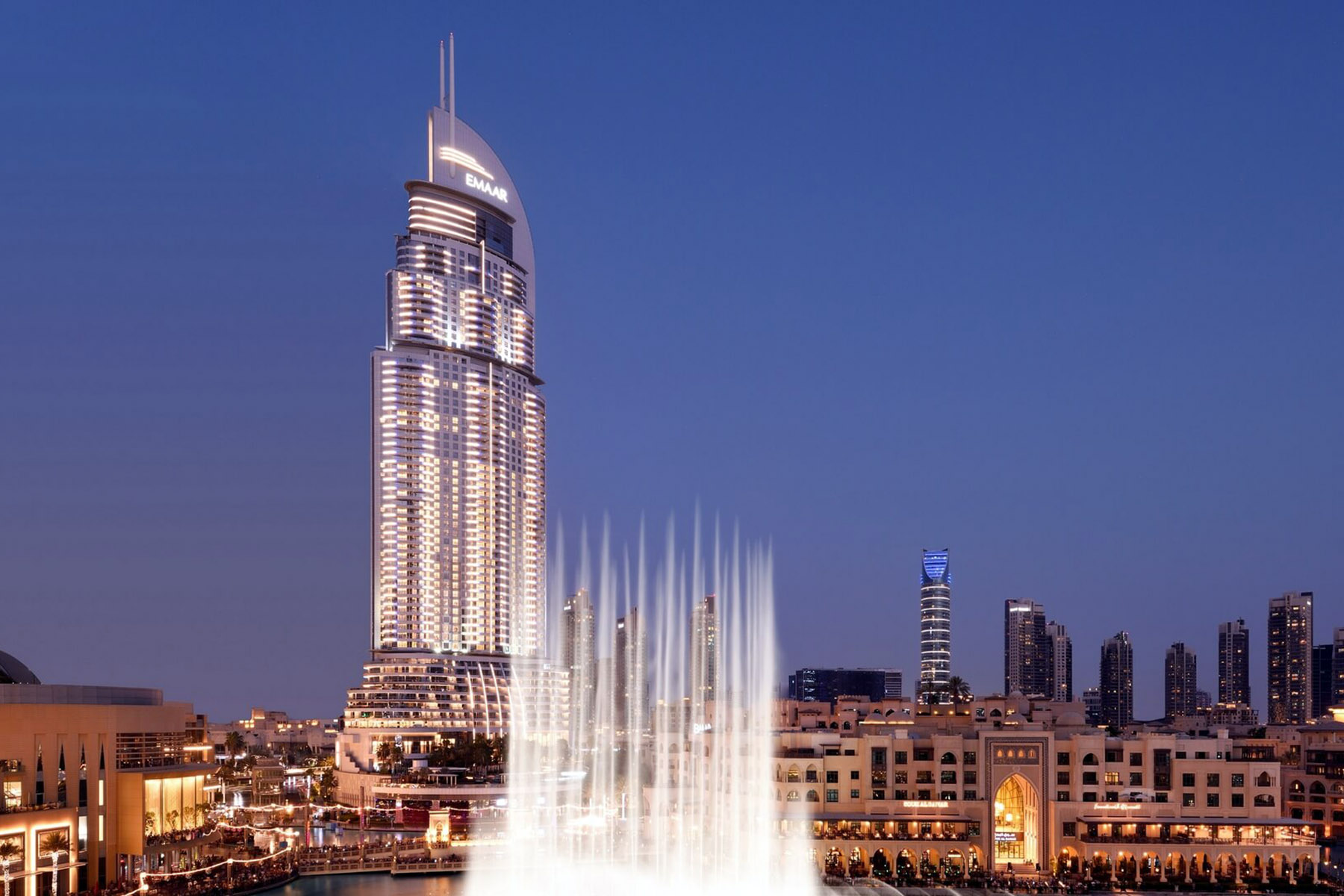 St. REGIS THE RESIDENCES
St. Regis Residences is a new residential project located in the heart of Dubai's business center. It was developed by Emaar Properties (one of the leading real estate development companies in the UAE), and St. Regis Hotels & Resorts (an internationally recognized hotel brand).
The luxury complex consists of two towers, Towers A and B. Tower B will have 40 floors and 402 residences with 1 and 2-bedroom apartments. The rooms will have panoramic windows with stunning views of the iconic sights of the city, for example, the Bourgeois Hadifa, the Dubai Fountains, and the Dubai Opera.
The project's world-class amenities on offer:
Restaurant
Bar
Cigar Lounge
Concierge service
Two spacious swimming pools
Spa center
The apartments will have high-end finishes and access to the services of a 5-star hotel.
The project is under construction and will be completed in the fourth quarter of 2026.
The minimum cost of apartments in St. Regis Residences is AED 2,150,000 ($585,349, ¥3,834,040).
DAMAC MAISON MAJESTINE
DAMAC MAISON MAJESTINE Damac Maison Majestine is a 20–story residential building, launched in 2015 and completed in 2018. The project offers premium-class apartments with 1, 2, and 3 bedrooms.
The building has furnished apartments, serviced suites, and deluxe rooms.
Amenities include:
Landscaped gardens
Specialty stores
Specialized family restaurant with service
Steam bath and sauna
Luxury Spa
Temperature-controlled swimming pool
Modern gym
Ample parking
Babysitting and care services
The minimum cost of an apartment in Downtown Dubai in the Damac Maison Majestine residential complex is AED 716,000 ($194,935, ¥1,276,824).
The cost of renting in a residential complex starts from AED 75,000 ($20,419, ¥133,745) per year.
MAG 318
Mag 318 is a residential complex implemented by MAG Group, located 50 meters from the Dubai Mall. The building includes 23 floors and 439 premium class residences. Studios, 1 and 2-bedroom apartments are sold and rented in the residential complex. All apartments are furnished and have balconies.
Amenities in the building include:
Landscape design
Swimming pool
Gym
Outdoor recreation areas
Children's zone
Parking lot
Community center and cafe
The minimum cost of apartments in a residential complex is AED 780,000 ($212,359, ¥1,390,954).
The rental price is AED 70,000 ($19,057, ¥124,829) per year.
THE ADDRESS RESIDENCES DUBAI OPERA
The Address Residences Dubai Opera is a luxury multifunctional complex combining a hotel and residential apartments. The tower consists of 65 floors. The hotel and hotel apartments are located on the 55th to 65th floors. The project offers apartments with 1, 2, and 3 bedrooms.
The complex is located in the northern part of the Dubai Opera district, on the shore of Lake Burj Khalifa, next to the Burj Khalifa.
Amenities include:
24-hour concierge service
Children's playground
Game room
Fashionable lounge area
Spa
State-of-the-art gym
Infinity pool
Restaurants.
The cost of apartments at The Address Residences Dubai Opera starts from AED 1,899,999 ($517,285, ¥3,388,220).
BELLEVUE TOWERS
Bellevue Towers is a reincarnation of the canceled Maram Residence project, which was planned to be built on the same plot of land. Two 26-story buildings have 1, 2, 3, and 4-bedroom apartments and spacious premium penthouses.
Amenities include:
Business Lounge
Indoor and outdoor children's playgrounds
Gym
Fitness center and spacious swimming pool
Prices for apartments in this residential complex start from AED 1,400,000 ($381,157, ¥2,496,584).
The cost of renting in a residential complex is AED 118,000 ($32,126, ¥210,426) per year.
EMAAR ACT ONE | ACT TWO
Emaar Act One and Act Two are a luxury residential complex consisting of two towers that offer apartments with 1, 2, and 3 bedrooms, luxurious finishes, and furniture. There are a total of 394 residences on 52 floors.
The apartments in the towers overlook the Dubai Opera and the Dubai Fountain. Residents will have access to more than 1,500 retail outlets, an ice rink, the Dubai Aquarium, the Underwater Zoo, a cinema with 13 halls, Sega Republic, and KidZania.
Amenities in Emaar Act One and Act Two include:
Concierge service
Modern gym
Temperature-controlled swimming pool
Covered parking
Children's playground
Mini markets and cafes on the ground floor
The minimum purchase price of real estate in Act One and Act Two is AED 1,299,999 ($353,932, ¥2,318,255).
OPERA GRAND
Opera Grand is a majestic 71–story skyscraper designed by DPA Architects and implemented by EMAAR Properties in the Dubai Opera district.
Residences with 2, 3, and 4 bedrooms are for sale here. All apartments have large balconies, overlooking the Burj Khalifa and Dubai Fountains. The 4-level parking on the ground floor is connected to the Emaar underground tunnel access system.
Amenities will include a landscaped podium, a health club, a rooftop pool, restaurants, and retail space.
Prices for apartments start from AED 2,068,465 ($563,151, ¥3,688,641).
The average cost of renting apartments in Opera Grand is AED 230,000 ($62,618, ¥410,153) per year.
THE ADDRESS FOUNTAIN VIEWS
The Address Fountain Views is a three–tower complex with apartments overlooking the Burj Khalifa and the Dubai Fountain. Towers 1 and 3 have 59 floors each, and Tower 2 has 65 floors.
In total, the complex has 786 serviced apartments from 1 to 4 bedrooms, as well as duplex apartments and penthouses. Amenities include a fully equipped health club and a rooftop relaxation terrace with landscaped amenities and water attractions. The towers are built over a 15-story multifunctional podium, including shopping and parking levels, as well as a bridge connecting them to the neighboring Dubai Mall.
The price of apartments starts from AED 2,000,000 ($544,511, ¥3,566,549).
The rent in a residential complex starts from AED 350,000 ($95,289, ¥624,146) per year.
DOWNTOWN VIEWS II
Downtown Views II Tower 1 is a new 53–story skyscraper developed by Emaar Properties in the northern part of Downtown Dubai.
The residential complex consists of luxury apartments with 1, 2, and 3 bedrooms and views of the Dubai Fountains and Burj Khalifa. The tower has direct access to the Dubai Mall via an air-conditioned bridge across the Financial Center Road.
Residents of the complex can use the following amenities:
Outdoor temperature-controlled swimming pool
Barbecue area
Children's playground
Sports ground
Modern gym
Lounge;
Multi-purpose common room
Media room.
The minimum price of the apartment is AED 1,510,888 ($411,347, ¥2,694,322).
The average rental price is AED 196,000 ($53,362, ¥349,521) per year.
A special offer to purchase a property in Downtown Dubai
The website "Downtown Dubai" contains offers from leading developers in the best locations in Dubai. For an individual selection of apartments and villas in Downtown Dubai, contact us via the form on the website. We will inform you of where it is better to buy an apartment in the center of Dubai for investment and permanent residence!